About a month ago I started throwing around the idea of coming up with an All-American team. Yet after seeing virtually the same team picked by every preseason magazine and preview, the idea kind of lost some steam. That is until a few days ago, when an email from one of our readers, Justin, alerted me to the incredibly physical play of Army's fullback Mike Viti. I've long been an admirer of Viti's play, so much so that in a recent preview of Army I used to word "badass" to describe him. Amazingly, "badass" is not yet in the dictionary, but I did manage to scour the Internet for a good three minutes before I found a definition. From wikipedia:
"Badass" is also a term used in
English language
slang
to refer to people who are considered to be tough. However unlike terms like "
ruffian
", badass is usually used affectionately. Usually synonymous with tough guy. When used as an adjective, it means something so good it tramples the competition.
It hit me like an Epiphany, or at the very least a marginally relevant revelation (hooah for alliteration.) An All Badass team, combining some of the most talked about but also some of the most overlooked "grinders" in all of college football, based on on the field performance and the undefinable quality of "badassness." I'll admit that I don't have a hand;e on every college football player, so if you think someones deserving of this highly prestigious honer, let me know and I'll be sure to acknowledge them. So, with that I give you my first annual All-Badass Team:
QB: Stephen McGee, Texas A&M:
You get crushed by a Longhorn defender. You get right back up and get in their face. You take the next play for a touchdown. That's badass for you.
RB: Ian Johnson, Boise State:
Played an entire game with a partially collapsed lung. Also crochets beanies for his teammates. Oh yea, and he's a
pretty damn good football player
.
FB: Mike Viti, Army:
The man, the myth, the legend. Could probably end terrorism single-handily if he was not playing football. Honorable mention goes to Adam Ballard, who has the ability to destroy linebackers whenever he touches the ball.
WR: Jarrett Dillard, Rice: I'll be honest, I don't know if the soft spoken and humble Dillard could really qualify as a "badass," but the guy just does everything right. In a climate where we're constantly hearing about size and forty times, Dillard brings it back to basics and reminds us of the true hallmarks of a great wide receiver. I'm talking about hands, field presence, and body control, qualities to which Dillard is second to none.
WR: Dicky Lyons Jr, Kentucky:
The now infamous video has been removed, but
you can read the fallout.
"I'm Dicky Fing Lyons Jr. and I can do what I want." Probably a jerk in real life, but we're willing to overlook that for the sake of this team.
WR Marcus Monk, Arkansas: Sick combination of size and speed. He averaged 19.2 ypc with eleven touchdowns last season.
TE: Chase Coffman, Missouri: A physical tight end who caught nine balls for touchdowns last season.
RT Michael Oher, Mississippi: Technically he's a left tackle, but I had to get Long in here so for the sake or argument I'm moving Michael to the right side. Ever since reading the Blind Side I can't get over the fact that he used to pick up defensive ends and carry them downfield in high school.

RG Chilo Rachel, USC: Yes he has a weird and gender defying name, but he's one of the top linemen in the PAC-10. Mostly though, he has a weird and gender defying name.
C Antron Harper, Navy: Homerism? Considering he's never played a game at center on the college level, probably, but he's a master technician with incredible strength for his size. Paul Johnson once said he'd play Antron and four cones for his offensive line.
LG Matthew Brim, Wake Forest: Customary mention representing all offensive lineman who play who STEED LABOTZKE.
LT Jake Long, Michigan: There ain't a lot I can say about Jake Long, except that he was a first team All American last year and bears the physical on-the field presence of the incredible hulk.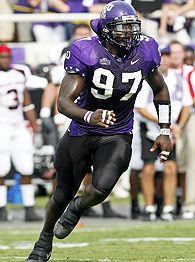 DE Tommy Blake:
One of the most disruptive players to ever play in the MWC, Blake gears up with fellow Horned Frog Chase Ortiz to form the best defensive end combo in the entire country.
DT Eric Foster, Rutgers:
Because he plays for Rutgers I must inevitably hate Foster, and although I'm not a fan of
this nonsense
being played over ESPN in excess of 500 times, he's a damn good football player and the heart and soul of Rutgers' revamped defense.
DT Jason Jones, Eastern Michigan: Jones is one of those great players who plays on a really, really bad team. Incredibly athletic for his 6'5 frame, he relies on explosive force to cause havoc in the backfield (4 sack, 14.5 tfl) rather than excessive bulk (fatitude.)
DE: Chris Long, Virginia:
Commands double teams and is arguably one of the most feared pass rushers in the country, we like Long here because his dad was a solid badass in his hay day.

LB: J Leman, Illinois: Anyone with the audacity to wear an American flag tie while sporting a mullet in their official photo is the genuine article in my book. Plus he kills people on the field.
LB Bo Ruud, Nebraska: The name alone screams the destructive capability of a star wars bounty hunter. It also helps that he's one of the most dynamic linebackers in the Big 12.
CB Julius Stinson, Wyoming:
Stinson doesn't get the attention he deserves because he plays in Laramie, but he's one of the best corners in the nation against the run and brings the wood whenever he steps onto the field.
CB Jack Ikegwuonu, Wisconsin: Being a badass at the cornerback position means being stout against the run and not shying away from contact, two qualities Ikegwuonu certainly has.

FS: Marty Tadman, Boise State: Completely covered in God-fearing tattoos. Gave up his drug addiction and became a devout Christian, which is completely badass if you ask me.

SS: Tom Zbikowski, Notre Dame: How can you not have Zbikowski here? Not only does he sport a badass Mohawk, but he has literally KO'd people in the ring.
Suggestions, additions? Let me know.